China Life (Overseas) Celebrates 90 Years of Serving Customers as the Title Sponsor for the much-awaited Sporting Event, FIVB Volleyball Nations League Hong Kong 2023
Body
Title-sponsored by China Life Insurance (Overseas) Company Limited ("China Life (Overseas)"), organized by the Volleyball Association of Hong Kong, China ("VBAHK"), the much-awaited "FIVB Volleyball Nations League Hong Kong 2023" ("VNLHK2023") will be held from 13 to 18 June 2023 at the Hong Kong Coliseum. A press conference was held today (22 April) to announce the details of ticketing and tournament information. Attending guests included President of the VBAHK, Mr Wilfred NG; Vice President of China Life (Overseas), Ms KANG Le; Executive Chairperson of Organizing Committee of VNLHK2023, Mrs Marina SHEK TSUI Wai Fun; legendary Team China player, Ms HUI Ruoqi, and celebrity Ms Renci YEUNG.
China Life (Overseas) is delighted to see FIVB Volleyball Nations League Hong Kong returns to Hong Kong, bringing another immersive sports experience to the local communities. This year marks the company's 90th years of serving customers. To commemorate this special occasion, China Life (Overseas) title sponsors the tournament to share the joy and excitement with the public. Through this title sponsorship of volleyball tournament, together with a wide array of celebration activities, China Life (Overseas) hopes to promote the spirit of teamwork, persistence of women's volleyball team, as well as motivate people to lead a healthy lifestyle.
The VNLHK2023 will follow a new competition format to optimise the performance of teams and spectator experience. A total of 8 national teams will compete across 6 days, while the number of matches will be increased from 6 to 16. Participating countries in this tournament include 2022 Volleyball Nations League champion and the world's second-ranked Team Italy; the world's fifth-ranked Team China; 2022 Volleyball Nations League third runner-up and the world's seventh-ranked Team Türkiye; the world's ninth-ranked Team Dominican Republic; the world's tenth-ranked Team Poland; the world's twelfth-ranked Team Netherlands; the world's fourteenth-ranked Team Canada; and the world's sixteenth-ranked Team Bulgaria.
To heat up the event and promote volleyball among the public, a series of themed activities will be held throughout the city, including a fan-meet-cum-ferry-tour where fans will have the chance to meet the players of invited participating teams. In addition, the stadium is upgraded to enrich the spectator experience, a pop-up exhibition and themed instant photo booth of favourite players will be set up in a shopping mall. Volleyball-loving students are encouraged to form cheerleading teams to cheer for the world teams throughout the first three days of the tournament.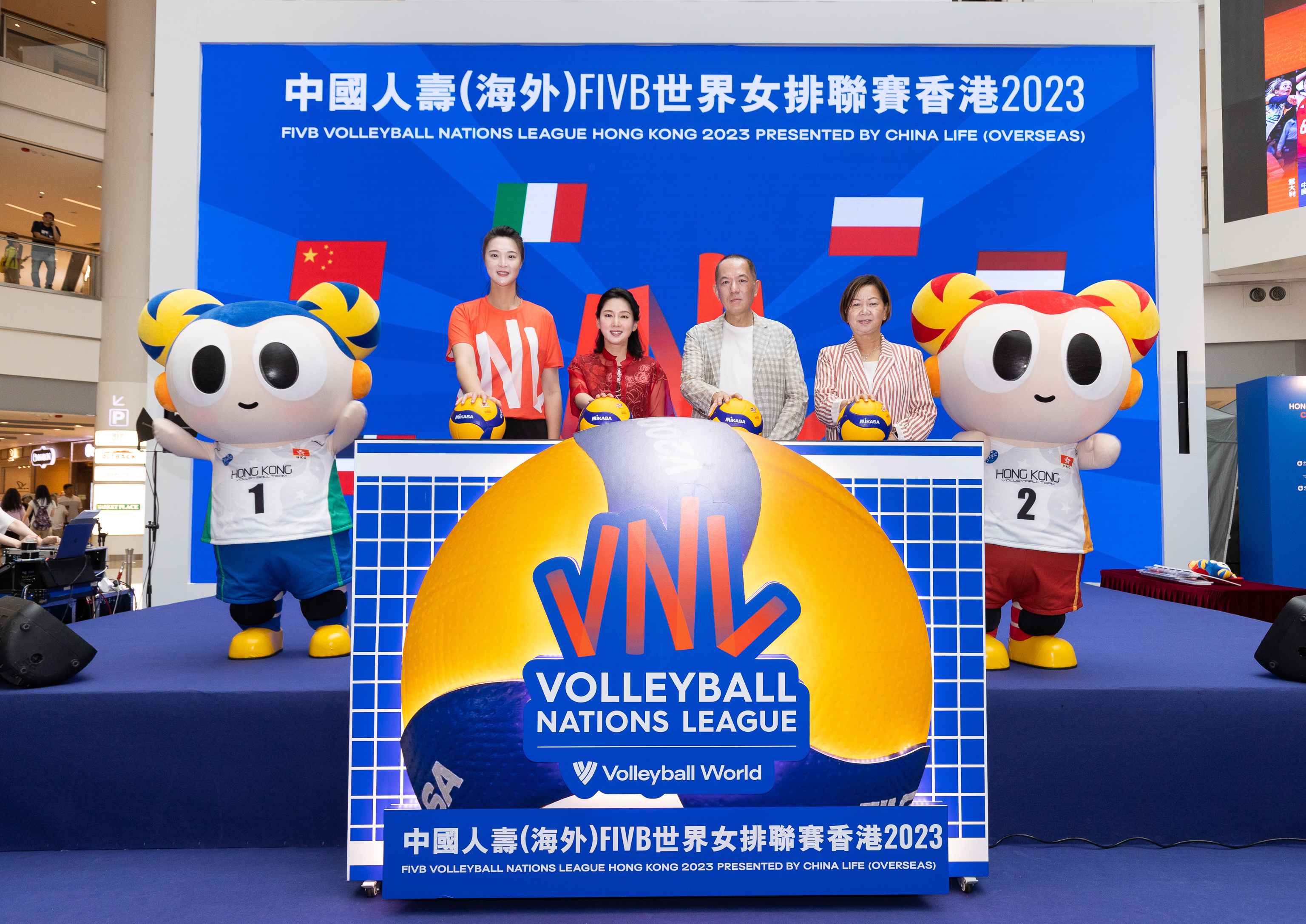 The Vice President of China Life (Overseas), Ms KANG Le (second from left) officiates at the ceremony.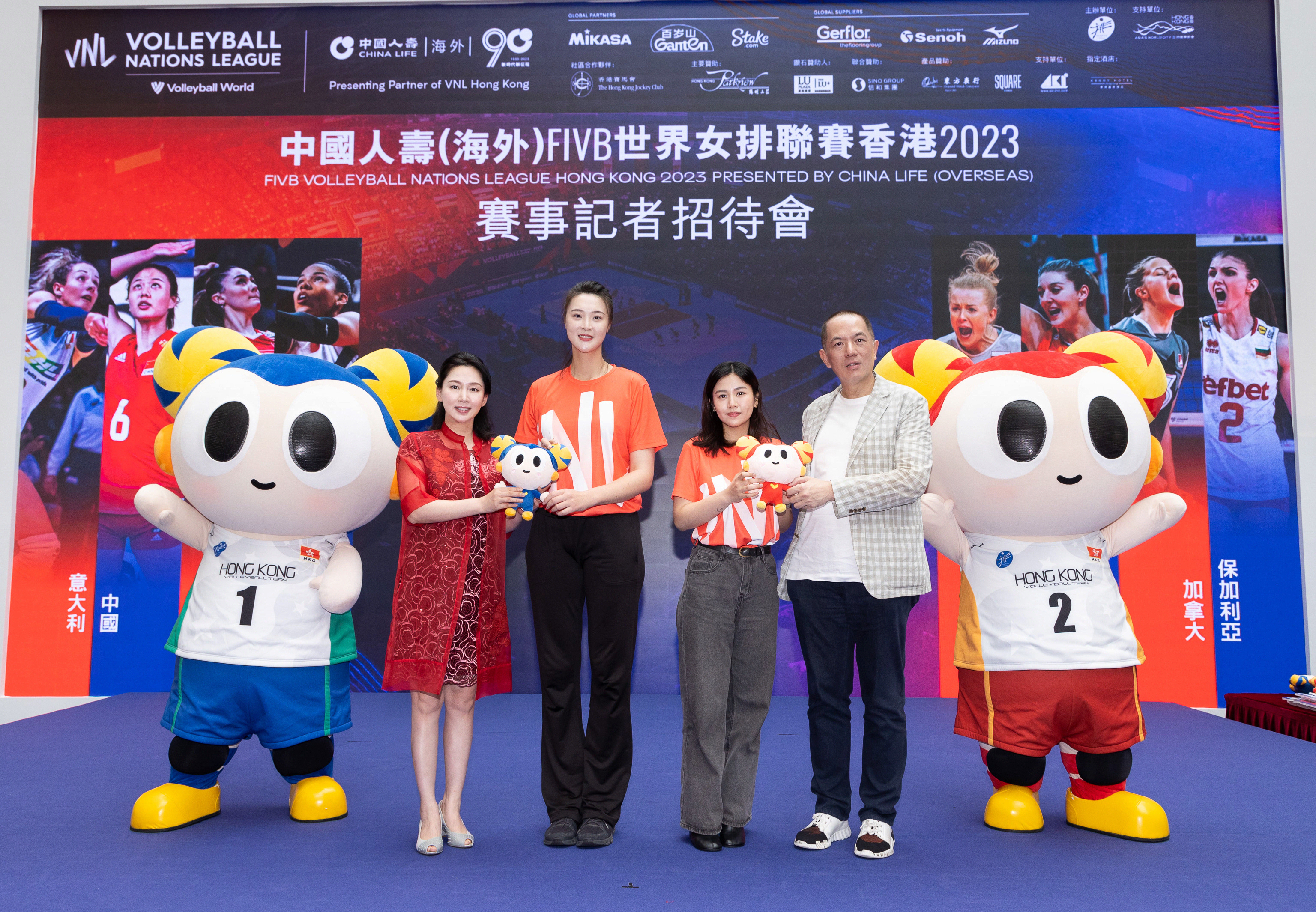 The Vice President of China Life (Overseas), Ms KANG Le (first from left) presents souvenirs to Ms HUI Ruoqi (second from left).