China Life Trustees awarded Outstanding MPF Scheme for the second consecutive year
Body
CLI (Overseas) announces that China Life Trustees("CLT") has been granted the "Outstanding MPF Scheme 2014" Award by Quamnet, in recognition of the distinguished performance of its flagship product "China Life MPF Master Trust Scheme" in 2014.
The "Quamnet Outstanding Enterprise Awards" is organised by Quamnet since 2009, which aims to acknowledge the outstanding achievement and significant contribution of well-known enterprises in Hong Kong. It has been developed into a yearly event with the support of independent investors, media and industries.
As the wholly owned subsidiary of CLI (Overseas), CLT acts as an approved MPF trustee to manage MPF scheme in Hong Kong for nearly 20 years, with total assets under management over HK$80 billion. This award demonstrates the long-standing commitment of China Life, which involved in motivating the endeavor to meet the ever-changing needs of the market and providing the best product and service to our customers. Also, it is a great encouragement for the company to achieve the continued success in future.
For details, please visit the Chinese version.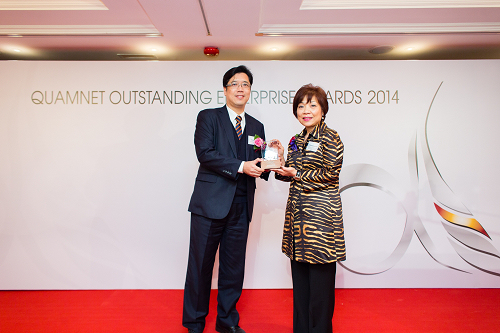 China Life Trustees Awarded Outstanding MPF Scheme for the Second Consecutive Year